Are you a content maker who creates digital content such as videos and podcasts? Or do you have vital documents that you wish to store safely?
Online storage is currently the new trend with cheap and easy-to-use storage options. You can store, access, and use your content remotely via selected devices through internet connectivity. Moreover, you can share the same content with an audience without compromising the safety of your files.
If you are looking for an efficient, secure, and reliable platform with such enhanced features, look no further than Katfile.com. Today, we'll look at Katfile premium, its benefits, and how much it costs.
What Is Katfile.com?
It is a file storage service that enables storage, backup systems, and remote tools for uploading and downloading content. Katfile, therefore, allows you to host all your videos, files, and images collectively on one platform.
The cloud port only requires you to set up an account by registering using your name and email. You'll then create a password that you will use every time you want to access your files.
Katfile Premium Benefits
Katfile offers all essential services for free, but if you stay on the free mode, be sure to meet substantial limitations. For instance, your download speed cannot exceed 75 KB/s.
As a result, updating your account to premium is the only option that enables you to get the most return for your money.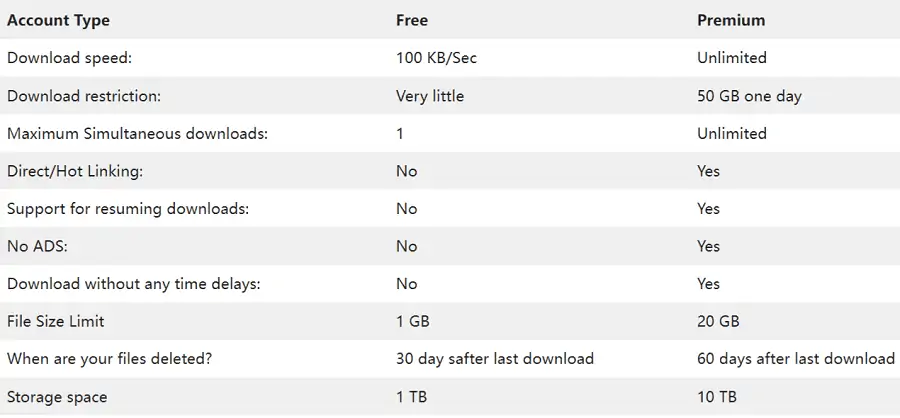 Here are some incredible benefits of Katfile Premium:
Enjoy Super-fast Speeds
The speed on the premium mode is thirty times what you would get on a basic plan. If you have reliable internet connectivity, you can be sure to get your file in a few seconds or minutes.
Download Large Files
Katfile premium has 20 GB of virtual space for file downloads. So, if you have large files to download, you won't worry much about where to find extra space. It all fits within your download threads.
That's an excellent deal if you are keen on having all your documents in a standard hub. Moreover, you could also use the extra space to perform other functions when you finish your download.
Overcome Unnecessary Lapses and Barriers
A premium account eliminates the usual 30-second lapse on the basic plan. A mere click sparks your file downloads almost immediately.
Additionally, you won't have to handle annoying ads from secondary advertisers and captcha codes before downloading your files. Subsequently, your screen and user interface remain uninterrupted as you're logged into your account.
Run Infinite Threads
Some platforms restrict the number of downloads you can execute in a session, but Katfile doesn't. All premium users can run multiple download threads at no extra cost. As you already know, downloading a single thread each time can be time-consuming.
Restart Paused Downloads
You'll occasionally experience unexpected interruptions between download sessions due to power failure or simply pausing when multitasking. Regardless of the cause, you can conveniently resume later. But unlike the basic plan, where you start afresh, a premium plan ensures you pick it up from where you left.
Katfile Premium: How Much Does It Cost?

Katfile has four discounted pay plans that allow premium users to enjoy reasonable offers. You can opt for a monthly plan, a 90-day package, an annual plan, or the classic lifetime slate depending on what fits your budget and meets your cloud storage needs.
Besides that, Katfile accepts various modes of payment to make the process faster and easier for you. You can comfortably buy your favorite package via visa card, PayPal, bitcoin, and many more. Never mind sharing important information during payment, as the system is secure.
If you wish to grab a premium plan, here are the offers to check:
1 Month
Do you need premium perks for a short time, with just a few downloads to make? Then the monthly offer is your ideal package. Here, you only pay $18.99, and you're set to explore all extra features till the thirtieth day.
90 Days
This offer requires a one-off payment of $52.99 for 90 days. If you opt for the monthly plan, multiply $18.99 by three and you'll realize you'll pay more than if you took a 90-day package.
1 Year
An annual plan is a better deal because it brings unrivaled peace of mind. With this, you can say goodbye to mid-year service interruptions that come when you don't renew your monthly plan. Get Katfile annual premium for a discounted price of $119.99.
Lifetime Offer
Katfile is one of the few platforms that give users unlimited lifetime support. With a premium package, you pay $439.99 and conveniently enjoy all features throughout your life.
Katfile Premium: FAQs
What files can I upload on the platform?
Katfile accepts all types of files, including audio, party photos, documents, and video content. It is, however, unacceptable to upload pornography, offensive content, nudity, and files that have copyright protection.
Can I store my files on the platform forever?
Yes. If you are a premium user, you can forever store your files on the virtual servers. Basic subscribers, however, can only keep their files for not more than 15 days
Katfile Premium: Is It Worth the Cost?
Katfile stands out as a reputable virtual platform with global recognition. The benefits that premium users can get from the platform are equally high class and unbeatable.
Users have unlimited file downloads at super-fast speeds. Downloads begin immediately, without lapses, which usually consume time.
In addition, the ability to run many downloads simultaneously, unlimited storage spaces, and the ability to resume downloads are a plus. The best part is that all these high-end features come at affordable costs and flexible payment plans.